FFR 427 Roadster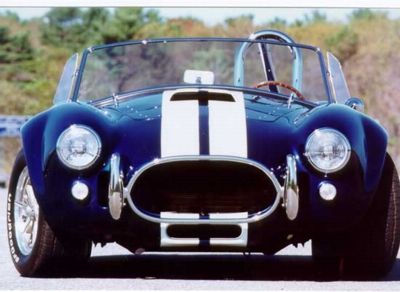 The Factory Five Racing 427 Roadster is the most successful component car ever built. The FFR design has won national race victories, earned awards in the press and garnered a loyal following of owners and customers. It is made from proven racing materials and is the integration of advanced computer design technologies and state-of-the-art manufacturing methods.
The Factory Five 427 Roadster is based on the innovation of using a single modern donor vehicle, namely the high performance Mustang 5.0. We chose the Mustang hardware for a number of reasons, but mostly because it has established itself as the performance bargain of the last decade. The Mustang's 302 V-8 is the exact same block that powered the original AC cars and GT-40's to World Championships in the 60's. Over the years we have added other engine/drivetrain options, but the single donor concept accounts for 3 out of 4 FFR cars built today.
The original FFR concept is quite simple… If you have our kit and a 1987-1993 Mustang 5.0 donor car, you have all the parts you need to build and drive your car!
OK, no, I don't have one of these ... YET! As soon as the Jeep is done, this will be the next project. I'll start with obtaining a donor Mustang and salvaging the parts. Then order the kit and put it together in "stock" form. After that, the evolution begins! I'll build a custom 5.0L powerplant with the Edelbrock Performer RPM Power Package to make around 400 naturally-aspirated HP, Tremec TKO transmission, and Ford 9" rear. Traction c/o Nitto P245/45ZR17 NT-555's up front & P275/40ZR17 NT-555R's out back, Then for kicks add the NOS BigShot 200-400HP Nitrous Kit. All this in a 1985lb. chassis with a 50/50 weight ratio! <drool......,,,>
Hey, it's good to have goals!